Adhesives
TB10 Tekmar Spray Pallet Adhesive
Description
TB10 is a revolutionary adhesive developed specifically for the textile screen printing industry. Manufactured using newly developed synthetic polymer technology, this adhesive is designed to be sprayed through an adhesive applicator such as the target tb-500 or tb-1000. It affords great hold down for tees and sweats with a tack time to rival solvent based aerosol adhesives.
It is non-staining, long lasting and a totally environmentally safe product. This non-hazardous, non-flammable adhesive, can be used safely in any sized shop allowing total OSHA compliance for the adhesive station.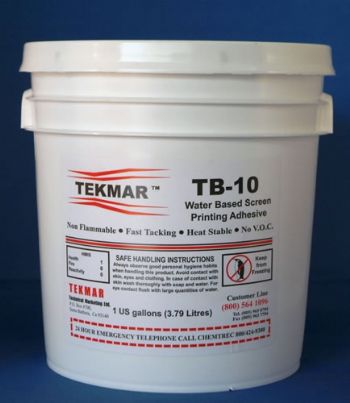 Water Based Pallet Adhesive
This waterbased pallet adhesive is designed to be used as an alternative to conventional aerosol spray glue. The water based pallet adhesive creates a secure non-permanent bond between the substrate and pallet during screen printing whilst allowing for easy removal without leaving residue. It is a heat resistant pallet adhesive, and can be used with or without flash curing.
This product is very economical in use and guarantees a fantastic output result. Save you both time and money, what's not to like about that.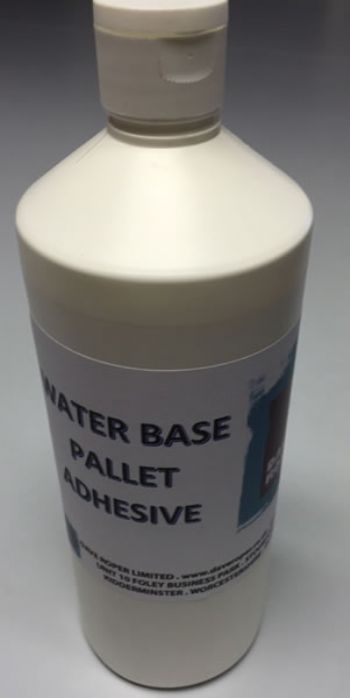 Screen Printing Bonding Adhesive Kiwobond 1000 HMT
1000 HMT is a two-component, low-viscosity frame adhesive for High Mesh Tension screens and fast drying requirements. It has excellent chemical resistance and adhesion to all commonly used screen frames. Its low viscosity makes it most suitable for finer mesh counts. Drying time before can be cut away from stretcher is approximately 5 minutes.
Container Sizes: 700 gram and 4.25 Kg set packs
Product Number: 20309
VOC: 5.84 lbs/gal, 701 g/l
Flash Point: 0°F (-18°C)