Cleaning Chemicals
Screen Cleaning Chemicals
Looking for the best screen cleaning chemicals? Printing Top carries what you need, for any silk screening project or business. We carry high quality dehazers, degreasers, screen washes, ink and emulsion removers, and more, with affordable and eco friendly options. We also offer a range of tools and equipment, to ensure your screens are clean as new for your next printing run.
Easiway One Step Ink & Emulsion Remover Supra
Easiway EasiStrip Supra-Ink & Emulsion Remover Supra
EasiStrip SUPRA™ One Step Ink Cleaner & Emulsion Remover is a liquid cleaner which provides a revolutionary, streamlined approach to cleaning and reclaiming textile printing screens. When used as directed, this unique, inexpensive product dissolves plastisol and water base ink, water soluble screen blockout, direct emulsion and capillary film as well as tape adhesive residue.
With EasiStrip SUPRA, textile screens can be cleaned for pennies by combining many of the cleaning processes into one. EasiStrip SUPRA is a zero VOC, low odor, non-flammable (NO flashpoint), biodegradable, non-hazardous product which will provide the benefits of less labor, less expense and improved efficiency to the screen cleaning and reclaiming operation.
This concentrated one step ink & emulsion remover is designed to be used as part of the Easiway dip tank system.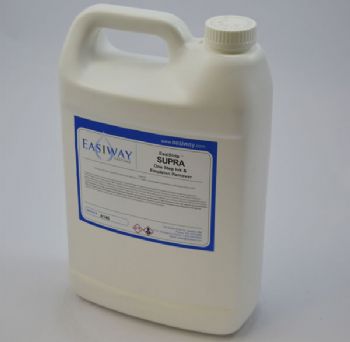 Sgreen Stuff Dehazer and Degreaser - Quart
Sgreen® Stuff is an aggressive but environmentally friendly dual action dehazer and degreaser designed to remove the toughest ink haze from leftover plastisol, water based and discharge inks. Sgreen® Stuff leaves your fabric free of all oils and contaminants and reduces the occurrence of pinholes to allow for better adhesion of your emulsion. The unique abrasive pumice additive deep cleans mesh for superior screen clarity and cleans mesh stains with less noticeable odor while working more efficiently than most hazardous stain removers. With Sgreen® Stuff you save both time and money, by combining the last two steps of screen reclamation into one and reducing the number of chemicals you need in your reclamation process.
Environmentally safe.
Non-hazardous.
Non-offensive, low odor for easy breathing.
Dual-action cleaning: Degrease and dehaze in one step.
Super powerful formula made to finish the cleaning and reclaiming process in less time.
Leaves fabric free of all oils and contaminants, and prevents pinholes which slow down your process.
Abrasive pumice additive deep cleans mesh for superior screen clarity.
Sprayway Orange Power Plus Screen Opener/Ink Remover – Can
Great for use with plastisol inks for opening screen mesh and cleaning ink! Orange Power Plus is a conical, medium force mist spray. It allows for the product to be sprayed onto the part and/or substrate for maximum coverage and dwell time with negligible bounce. Its high solvency action will penetrate plastisol ink to open or clean the screen or squeegee.
Looking for another option? This time try Sgreen Supreme Wash for the most powerful eco-friendly chemical on the market.
Note: Aerosols and SR-97 can not ship via Air.
Size: 15oz Aerosol
Features:
Heavy duty, non-chlorinated degreaser
Effective for removal of grease, oil, ink, adhesive, tar, wax, exhaust fume residue, resins and certain graffiti
Use to replace products containing acetone, trichloroethylne, butyl cellosolve and other chlorinated solvents
Very pleasant odor and a nice alternative to the typical strong solvent that normally comes in screen opener.
*One year shelf life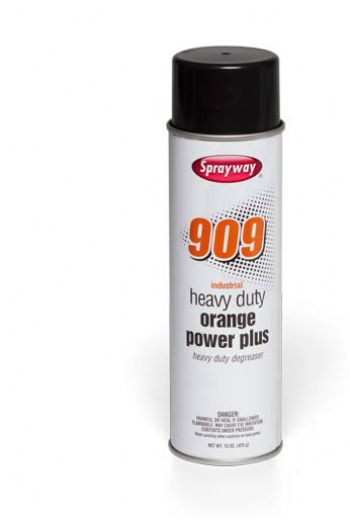 Sprayway Fast Open 32 Water Based Screen Opener
Sprayway Fast Open 32 is a premium water based screen opener. A convenient and easy-to-use product designed to open dried-up areas on screens especially those caused by water-based inks. Use this product at regular intervals to help prevent clogging and work delays. Use on screens made with photographic (direct or indirect), stencil or lacquer-proof, knife-cut films. TO USE: It is delivered as a ligh foam spray. Spray it on the area of dried up ink and then wipe with a dry cloth, sponge or paper towel. It is important to allow 10 - 20 seconds for the product to dissolve the ink before wiping. More difficult situations may require more time to allow the chemical to work effectively. For more effective results, it can be sprayed on both sides of the image before wiping.